Accelerate your business growth with Dynamics 365, the next generation of CRM and business applications.
From engaging your customers, optimizing operations, empowering your employees or transforming your products and services, Microsoft Dynamics 365 gives you a deep understanding of your business to help digitally transform and achieve success in your own terms.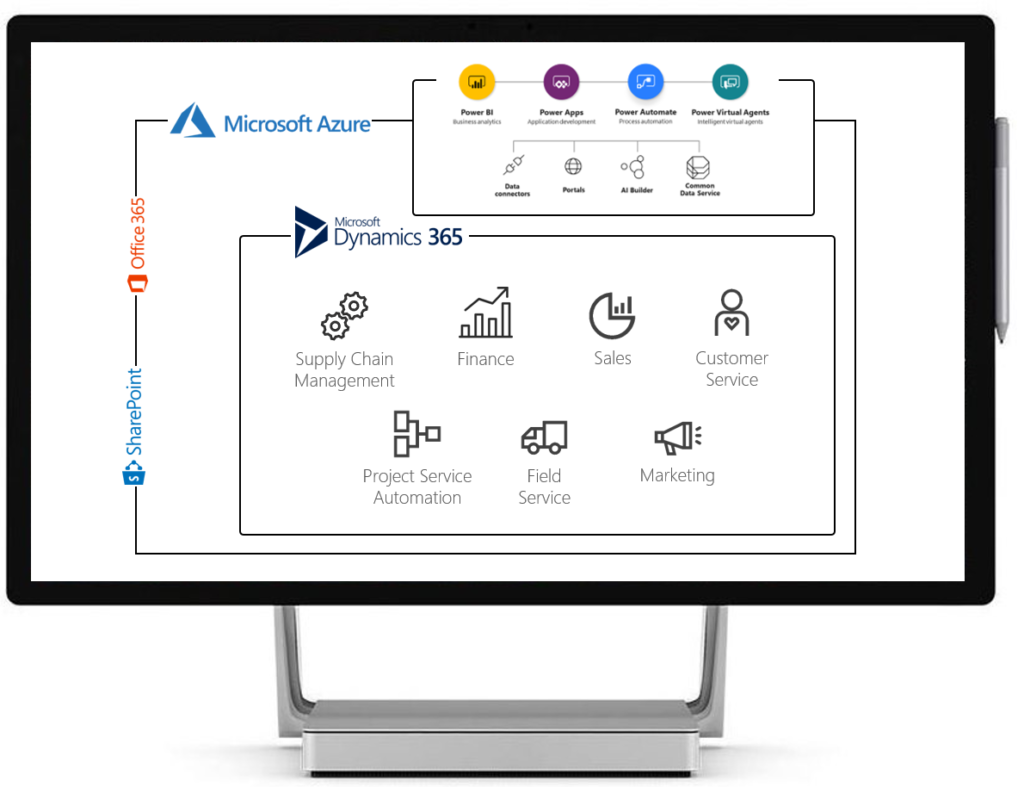 Allow vendors with visions to personalize relationships, forecast customer desires, and grow sales. Go beyond sales force automation (SFA) with Dynamics 365 for Sales to better understand customer needs, engage more effectively, and win more deals.

Serve customers through proactive maintenance, predictive scheduling, and first-time fixes. Deliver a seamless, end-to-end service experience with Dynamics 365 for Field Service. Built-in intelligence helps you resolve service issues before they occur, reduce operational costs, and deliver positive onsite experiences.

Turn prospects into business relationships. Increase customer demand for your products and services and improve marketing results with Dynamics 365 Marketing. Create and nurture leads and align sales and marketing. With AI-driven insights, lead scoring, and custom dashboards you can improve automated marketing performance.
Microsoft 365 is a cloud-based service that brings together the best tools for the way people work today. By combining best-in-class apps like Excel, Sharepoint and Outlook with powerful cloud services like Microsoft Dynamics 365 and PowerBI, Microsoft 365 lets anyone create and share business information anywhere on any device. Yavica is on the forefront with all the relevant technologies and continuously stays updated on breaking evolution through our passionate product specialists ensuring that we will build your solutions on the appropriate architecture.

Power BI is a business analytics solution that lets you visualize your data and share insights across your organization, or embed them in your app or website. Connect to hundreds of data sources and bring your data to life with live dashboards and reports.
Azure is an ever-expanding set of cloud computing services to help your organization meet its business challenges. With Azure, your business or organization has the freedom to build, manage, and deploy applications on a massive, global network using your preferred tools and frameworks.
Azure is the umbrella technical platform which FlexProperty relies on. As many external solutions offers integration through Azures vast amount of service types, your solution will easily fit into scenarios which includes but are not limited to BI, IoT, AI.
Plan smarter, collaborate better, and ship faster with a set of modern dev services.
With Azure DevOps, you gain an integrated set of services and tools to manage your software projects, from planning and development through testing and deployment. Azure DevOps provides an integrated set of features that you can access through your web browser or IDE client.