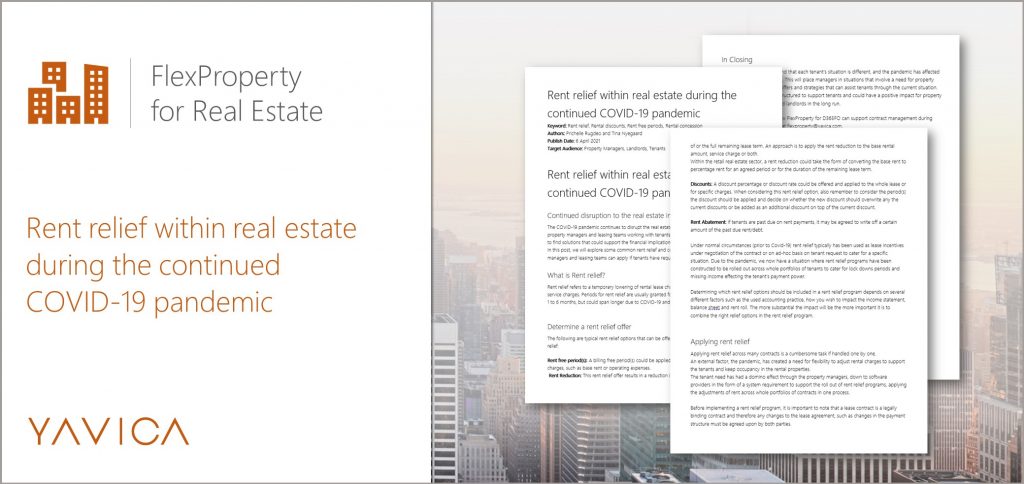 Continued disruption to the real estate industry
The COVID-19 pandemic continues to disrupt the real estate industry. This resulting in owners, property managers and leasing teams working with tenants and residents throughout the pandemic to find solutions that could support the financial implications emerging across real estate sectors.
In this post, we will explore some common rent relief and concession strategies that owners, property managers and leasing teams can apply if tenants have requested a rent relief.
Keyword: Rent relief, Rental discounts, Rent free periods, Rental concession
Authors: Prichelle Rugdeo and Tina Nyegaard
Publish Date:  April 20 2021
Target Audience: Property Managers, Landlords, Tenants
What is Rent relief?
Rent relief refers to a temporary lowering of rental lease charges, usually given for base rent or service charges. Periods for rent relief are usually granted for a short period of time, ranging between 1 to 6 months, but could span longer due to COVID-19 and its impact to a tenant's situation.
Determine a rent relief offer

The following are typical rent relief options that can be offered to a tenant who has requested a rent relief:
Rent free period(s): A billing free period(s) could be applied to the whole lease contract or specific charges, such as base rent or operating expenses.
Rent Reduction: This rent relief offer results in a reduction in the tenant's lease charge(s) for a portion of or the full remaining lease term. An approach is to apply the rent reduction to the base rental amount, service charge or both. Within the retail real estate sector, a rent reduction could take the form of converting the base rent to percentage rent for an agreed period or for the duration of the remaining lease term.
Discounts: A discount percentage or discount rate could be offered and applied to the whole lease or for specific charges. When considering this rent relief option, also remember to consider the period(s) the discount should be applied and decide on whether the new discount should overwrite any the current discounts or be added as an additional discount on top of the current discount.
Rent Abatement: If tenants are past due on rent payments, it may be agreed to write off a certain amount of the past due rent/debt.
Under normal circumstances (prior to Covid-19) rent relief typically has been used as lease incentives under negotiation of the contract or on ad-hoc basis on tenant request to cater for a specific situation. Due to the pandemic, we now have a situation where rent relief programs have been constructed to be rolled out across whole portfolios of tenants to cater for lock downs periods and missing income effecting the tenant's payment power.
Determining which rent relief options should be included in a rent relief program depends on several different factors such as the used accounting practice, how you wish to impact the income statement, balance sheet and rent roll. The more substantial the impact will be the more important it is to combine the right relief options in the rent relief program.
Applying rent relief

Applying rent relief across many contracts is a cumbersome task if handled one by one.
An external factor, the pandemic, has created a need for flexibility to adjust rental charges to support the tenants and keep occupancy in the rental properties.
The tenant need has had a domino effect through the property managers, down to software providers in the form of a system requirement to support the roll out of rent relief programs, applying the adjustments of rent across whole portfolios of contracts in one process.
Before implementing a rent relief program, it is important to note that a lease contract is a legally binding contract and therefore any changes to the lease agreement, such as changes in the payment structure must be agreed upon by both parties.
In closing

It is important to keep in mind that each tenant's situation is different, and the pandemic has affected livelihoods on a global scale. This will place managers in situations that involve a need for property and contract management offers and strategies that can assist tenants through the current situation. Rent relief offers could be structured to support tenants and could have a positive impact for property management companies and landlords in the long run.
For more information on how FlexProperty for D365FO can support contract management during COVID-19 please reach out at flexproperty@yavica.com.